This is sponsored by Natural Balance and the BlogPaws Professional Pet Blogger Network. I am being compensated for helping spread the word about Original Ultra Whole Body Health Pet Food but Golden Woofs only shares information we feel is relevant to our readers. Natural Balance is not responsible for the content of this article.
Having pets are awesome and require a loving lifetime commitment.
As a pet parent, it is very important that you care for their overall health. Last month, many of you participated in our Natural Balance Whole Body Health survey. An infographic was created as a result of the survey.
Your Pet's Whole Body Health Infographic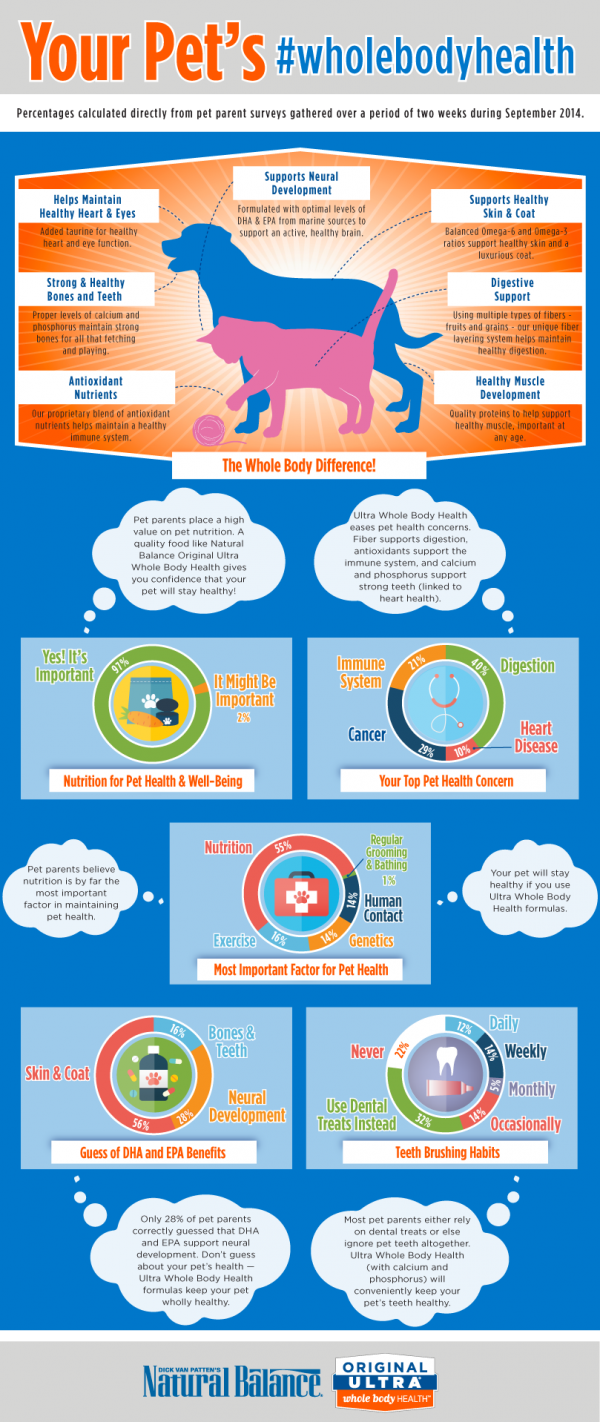 Natural Balance Whole Body Health
Overall, from Whole Body Health infographic, NUTRITION plays an extremely critical role in managing your pet's overall health. It shows that 97% of pet parents value their pet's nutrition and well being as very important. With the increase of cancer in pets, surprisingly it is not the main pet health concern. Many pet parents place a high value on their pet's nutrition. In a way, I agree on the result as I believe that every pet's good health depends upon good nutrition.
Pet food brand like Natural Balance created Original Ultra Whole Body Health which nourishes your pet's complete well-being, from head to tail. Created by Natural Balance expert nutritionists and supports the need of your pet through all life stages. Your pet will happy and most importantly stay healthy. There are 7 Areas that Natural Balance's Original Ultra Whole Body Health Supports:
1) Neural Development: formulated with optimal levels of DHA EPA
2) Healthy Skin & Coat: balanced Omega-6 and Omega-3 ratios support healthy skin and a luxurious coat
3) Healthy Digestion: multiple types of fibers helps maintain healthy digestion
4) Muscle Development: quality proteins to help support healthy muscle, important at any age
5) Antioxidant Nutrients: proprietary blend of antioxidant nutrients helps maintain a healthy immune system
6) Strong & Healthy Bones and Teeth: proper levels of calcium and phosphorus that helps maintain strong bones
7) Healthy Heart & Eyes: added taurine for healthy heart and eye function
Original Ultra Whole Body Health Sample Giveaway
Does your pet's current food have all these benefits?
Your pet deserves proper and good nutrition like
Natural Balance's Original Ultra Whole Body Health
From October 20 – December 5th or while supplies last, you can enter to receive a sample for your pet. Click Here, to request for sample for your dog or cat. Click Here to download a coupon a coupon for $3 off the Original Ultra Whole Body Health dry formula. Act quickly as the coupon expires December 31st.
Lastly, from the infographic, it is interesting to know that many pet parents rely on dental treats. Many dogs show signs of gum disease by the time they are four years old. It is very important to take care of your pet's dental needs at a young age. Brushing your pet's teeth and providing them with a proper diet can go a long way toward keeping their mouth healthy. As a senior dog, Sugar's teeth get brushed on a regular basis. Sugar also gets dental treats. Natural Balance Dental Chews: Vegetarian Blend is one of her favorites.