If you are a pet owner, surely you want your pet to feel extra special during the holidays. Recently, I participated in a survey by BlogPaws Influencer Group. In the survey, we were asked "how much we spend on our pets during the holidays." An infograhic was created as a result of the survey:
Invest in Pet Pampering For The Holidays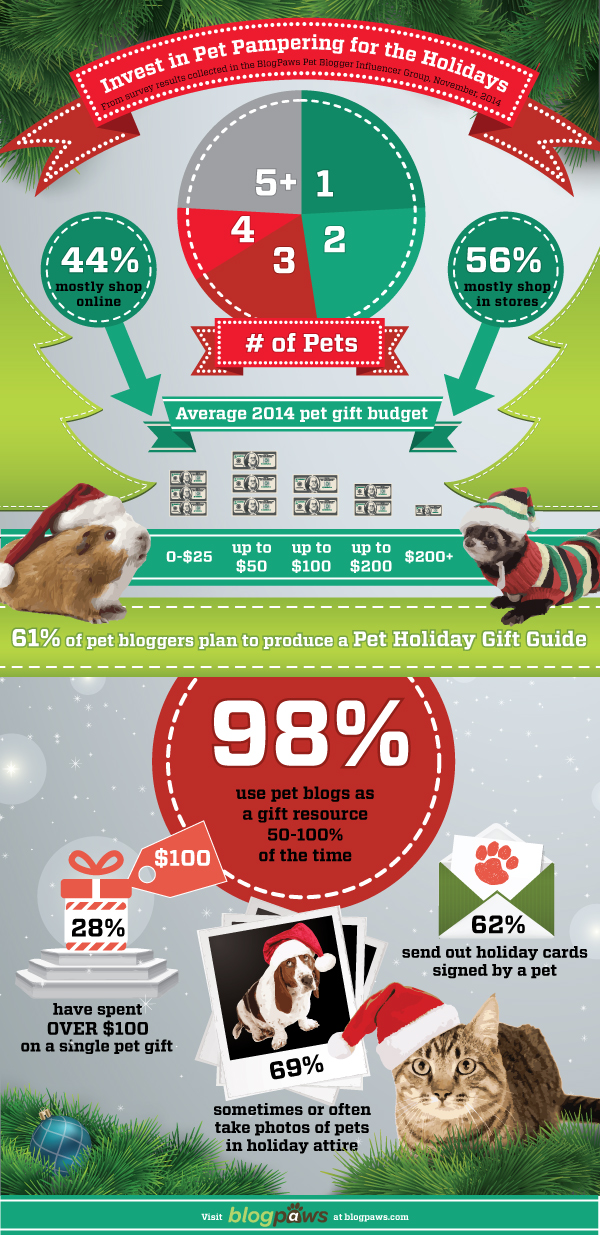 44% Shopping Online vs 56% In-Stores
I'm a pet parent that need to be able to see and feel the product I buy for Sugar. I typical shop in-stores and love to support small pet boutique shops. This year, I got Sugar a new set of wrought iron dog pet food/water stands + stainless dish bowls.
I also shopped online to take advantage of big holiday discounts and free shipping. I bought Sugar a pet cot from K&H. I am familiar with their products and have seen it in speciality stores. It was a good deal buying online. I bought a large size pet cot for a medium size prize, plus free shipping and it was delivered in 3 days.
Average 2014 Pet Gift Budget
Owning a pet can be expensive. I typically set a budget for the year, which includes vet care expenses. I consider providing the proper vet care as a gift. This holiday season, Sugar incurred unexpected vet care expenses.
With the vet care expenses, stands/bowls, pet cot and upcoming spa bath, I certainly exceed the surveys 200+ pet gift budget.
28% of pet owners have spent over $100 on a single pet gift. I like to spurge on luxury pet items over $100 from time to time. It's money well spent for Sugar.
Pet Holiday Gift Guide
I am one of the 61% bloggers that produced a Pet Holiday Gift Guide. This year, I've changed the format and did Golden Woofs 2014 Holiday Gift Guide in four categories: Dog Treats, Dog Accessories & Travel, Dog Health & Fitness, and Dog Lovers.
Creating a Holiday Gift Guide is a great way to acknowledge brands we reviewed and continue to use.
I'm not surprised to learn that 98% use pet blogs as a gift resource for their pets. I find new interesting pet products from other bloggers gift guides.
Holiday Cards and Photos
I am one of the 62% pet parents in which my holiday cards are signed by my pet, Sugar. It all started when Sugar was 4 months old, December 2001. Everyone loved my holiday cards and many kept it throughout out the year (posted on their refrigerator and/or desk wall).
Also, it's a tradition to take holiday photos of Sugar. I find it practical to only accessorize Sugar with holiday dog collars. I'm not one of the 69% that dress up their pets in holiday attire.
We invite you to check the infographic again and analyze your pet pampering spending this year. Have a wonderful holiday and keep your furry friend safe. Read our 5 Holiday Pet Safety Tips.